Adam Beyer 🔲 Cirez D
Downtown Las Vegas, New Open-Air Venue, Exclusive Engagement, May 16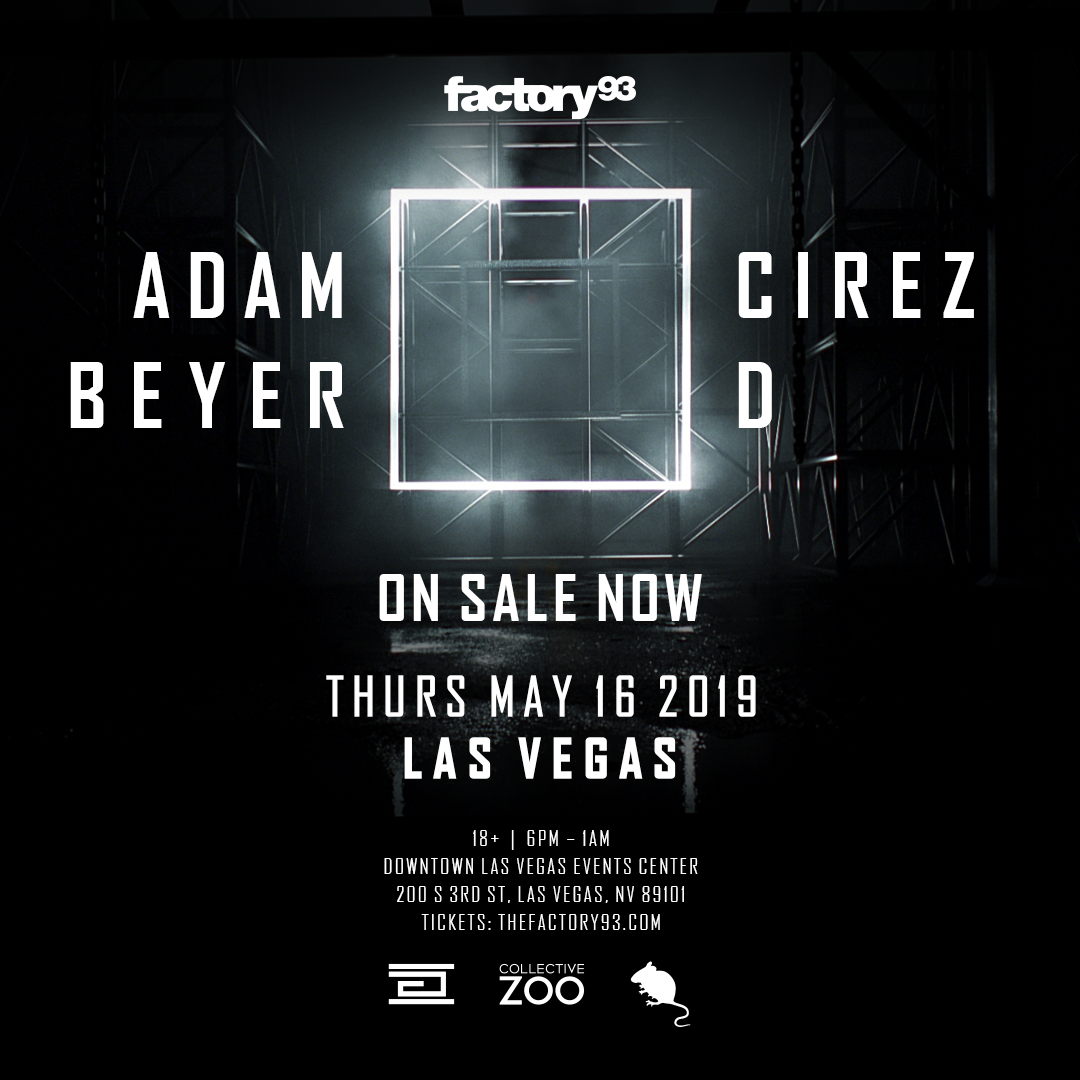 Presented in Partnership with Factory 93
This May the techno partnership of Adam Beyer and Cirez D will debut in Downtown Las Vegas, taking over a raw downtown open-air venue, for an extended session, their only performance together in the city, and their biggest show to date. It will be a first for Vegas, and Factory 93, a large scale, full production, techno focused stand-alone event off the Strip.
Since its debut last year in Miami, Adam Beyer 🔲 Cirez D, has played a handful of shows in NYC and Los Angeles, all of which sold out in minutes. The combination of two names synonymous with dark, propulsive techno, in conjunction with a bespoke production created and operated by Eric Prydz EPIC team, has been one of techno's most singular new live experiences.
Performing their exclusive Las Vegas show in Downtown, off the Strip, has allowed the team behind Adam Beyer 🔲 Cirez D a blank canvas to create a show uncompromised by venue restrictions. Attendees will be able to see the full production, and dance under the Las Vegas skies. This immersive large-scale techno experience will be something unique for Sin City, and the first show of this type for Factory 93.
Adam Beyer 🔲 Cirez D is presented by Factory 93, who have a long-standing commitment to showcasing underground dance music and culture at large-scale shows in Los Angeles, and uniquely programmed stages at some of the world's best festivals. This will be the largest stand-alone Factory 93 show to date, and comes on the heels of their pioneering Secret Project festival held in LA's Chinatown last year.
Adam Beyer's Drumcode has been one of the defining techno labels for the last two decades, and he's spent over 20 years honing his craft in the booth, to become one of the genre's most respected and revered selectors. Cirez D is the techno alias of Eric Prydz, a pseudonym under which he tours and operates his Mouseville imprint and through which he has been releasing music for over a decade.
Adam Beyer 🔲 Cirez D
May 16th
18+
Downtown Las Vegas Events Center
200 S 3rd St, Las Vegas, NV 89101
Tickets HERE